Ronda Rousey calls out The Bellas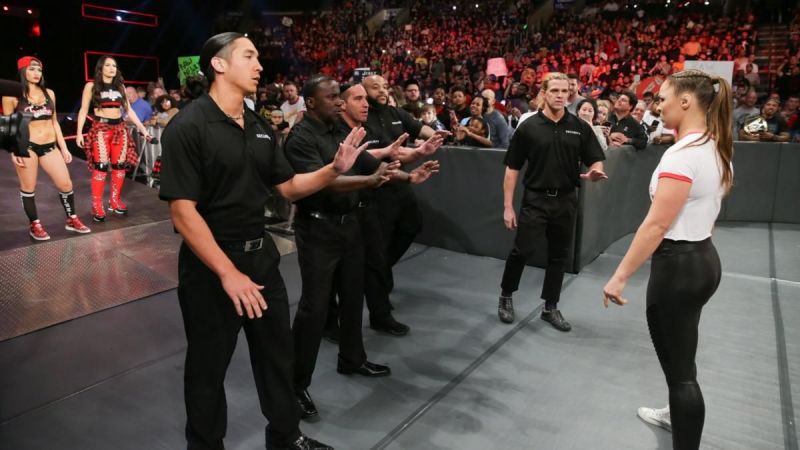 RAW Women's Champion Ronda Rousey was out next to a massive pop. Rousey takes the mic and says she has no idea why the Bellas turned on her. This led to The Bellas music hitting.
The Bella Twins say that Ronda disregarded their contribution to the business although she literally never did. They talk about how they meant the word "Divas" mean something and brag about their reality shows.
The Bellas tell Rousey that the women's title she's wearing wouldn't exist without them. Ronda tries to reply but there's no need as the crowd chants "break their arms"
Rousey seems to forget her lines a bit at this point but she's too over for it to matter. She admits she was too naive to see that they were an embodiment of a stereotype. Rousey verbally destroys The Bellas, telling them she was surprised as to how far they had come with minimum talent, saying that they leeched off their men. The crowd agree with chants of "Yes!".
Ronda Rousey adds that she can rip their arms off anytime and says she's a lot more than a pretty face. She warns them that the only one holding her back is the referees.
The Bella Twins fire back claiming that Rousey wasn't on their level. Ronda angrily states that she knocked down doors in Judo, Strikeforce, UFC and now WWE while Nikki only knocked down the doors of John Cena's bedroom. What a burn!
Ronda challenges them to come down to the ring to get their backsides whopped. Nikki angrily appears to take the challenge but stops. They call security out to protect them and approach the ring. The champ takes out all the security and by the time she's done, the Bella Twins are nowhere to be seen.